FCT and the National Research Fund of Mozambique sign Memorandum of Understanding
Topics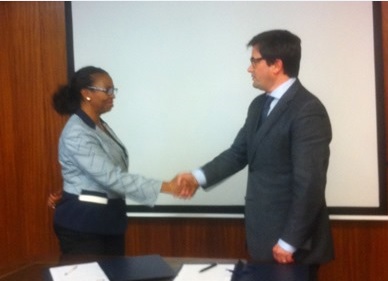 The Foundation for Science and Technology (FCT) and the National Research Fund (FNI) of Mozambique have signed the first protocol for cooperation between the two countries in the areas of science, technology, and innovation.
The protocol, signed by FCT President, Paulo Ferrão, and FNI Executive Director, Vitória Langa de Jesus, on May 12, resulted from the need to develop joint scientific and technological relations, which will bring mutual benefit to both institutions and to both countries in general.
This agreement is a recognition of the importance of science, technology and innovation in promoting the growth and competitiveness of the national economy of both countries, so FCT and FNI intend to promote cooperation in these fields on the basis of equality and mutual benefit.
The MoU will be realized through cooperation between the two institutions by operationalizing the following key areas of collaboration: exchange of personnel, scientists, researchers and experts to support the development of science, technology and innovation in both countries; exchange of scientific and technological information, teaching and learning materials arising from cooperation; conducting joint activities, including scientific conferences, symposia, workshops and other meetings; supporting joint research and technological development projects; facilitating scientific exchange between research institutions; exchanging experience and expertise in information and communication technology for development; and promoting appropriate technology transfer.
Posted on 20 May 2016