Implementation of a coordination of research and innovation programs on raw materials at the European level in order to strengthen the competitiveness of the industry and the shift towards the circular economy.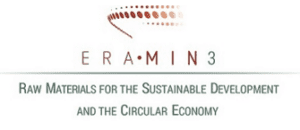 ERA-MIN3 is the ERA-NET Cofund in raw materials, supported by the European Commission's Horizon 2020, started on December 1st, 2020 and has a duration of five years, it is coordinated by FCT - Fundação para a Ciência e a Tecnologia (Portugal).
ERA-MIN3 is a pan-European network of research and innovation funding programs, consisting of 25 public organizations from 16 Member States (Belgium, Bulgaria, Czech Republic, Estonia, Finland, France, Germany, Ireland, Italy, Poland, Portugal, Romania, Slovakia, Slovenia, Spain and Sweden), three Member State regions (Flanders-Belgium, Wallonia-Belgium and Navarra-Spain), one Associated Country (Turkey) and three third countries (South Africa, Brazil and Canada-Quebec).
Based on the experience of the European ERA-MIN (2011-2015) and ERA-MIN 2 (2016-2022) projects, ERA-MIN3 aims to strengthen and consolidate the coordination of research and innovation programs in the area of non-energy, non-agricultural raw materials (metallic, construction and industrial minerals), in line with the integrated European strategy Raw Materials Initiative, the Strategic Implementation Plan of the European Innovation Partnership Raw Materials and ERA-MIN's research agenda.
Through the implementation of at least two Joint Calls for transnational collaborative research and innovation projects, ERA-MIN3 will support needs-driven research on primary resources, secondary resources and critical raw material substitution in a circular economy approach, as well as on cross-cutting themes such as, for example, mitigation of environmental impacts and public awareness. The main goal of this activity is to give the research and innovation community the opportunity to apply for globally coordinated funding, accessing cutting-edge knowledge and new markets and reducing fragmentation of research and innovation funding across Europe and globally.