ERA-NET European Research Area for Climate Services (ERA4CS)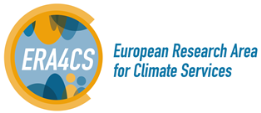 FCT is partner in the ERA-NET Cofund ERA4CS, a project that aims to extend and strengthen transnational cooperation in the field of climate services, for a period of 5 years (2016-2020). This ERA-NET Cofund was implemented in a joint collaboration process with JPI Climate. The consortium consists of 45 organizations from 18 European countries.
This initiative has received funding from the European Union's Horizon 2020 research and innovation program under grant agreement N° 690462.