CIRCLE-2 - Climate Impact Research & Response Coordination for a Larger Europe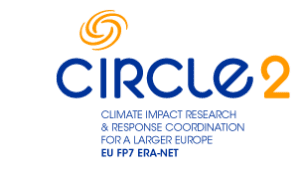 ERA-Net CIRCLE-2 (Coordination of Research & Response to Climate Impact in an Enlarged Europe) is a European network of public and private funders, including research institutes, ministries and regulatory authorities committed to the DESIGN, FUNDING and SHARING of transnational knowledge in scientific areas related to climate change adaptation. CIRCLE-2 aims to develop joint programming and fund transnational joint Calls in policy-relevant adaptation research using common management mechanisms in a European area.
Previously, CIRCLE-2 and its predecessor CIRCLE CA funded three joint Calls dedicated to adaptation research topics in the Mediterranean and Nordic and mountain regions. The Call on the Mediterranean, in particular, was dedicated to water management issues in coastal areas, and funded eight international research projects involving countries on the northern and southern shores of the Mediterranean. This Call has generated a considerable amount of new knowledge on specific coastal issues and has contributed to building a Mediterranean network of scientists from various disciplines. Most of these projects involved the participation and collaboration of policy makers and other stakeholders, and generally the people who live and work in these coastal areas.
The CIRCLE-2 consortium includes partners from Portugal, Austria, Italy, France, Spain, Sweden, the Netherlands, Finland, Ireland, Germany, Greece, Hungary, Turkey, Estonia, Israel, Belgium (Flanders) and the UK.