SIINN - Safe Implementation of Innovative Nanoscience and Nanotechnology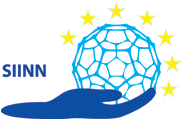 SIINN was a cooperation and coordination network of 20 national/regional research funding programs from 14 countries to optimize the use of resources (human, financial and infrastructure), knowledge and data on the impact and safety to human health and the environment of manufactured nanoparticles and nanomaterials. It ran from 2011 to 2015 under the European Union's 7th Framework Programme. The main objectives of ERA-NET SIINN were:
Develop a transnational R&D funding program in nanoscience and nanotechnology, particularly in the industrial applications of nanoparticles and manufactured nanomaterials by promoting the study of their health and environmental impacts and safety;
Promote information exchange between ministries, funding agencies, academic institutions and industry, including international organizations;
Support joint transnational Calls in areas corresponding to knowledge gaps.
The projects funded in the three Joint Transnational Calls (CTC2012, 2013 and 2014) are presented here.