FCT updates the value of the Studentships
Topics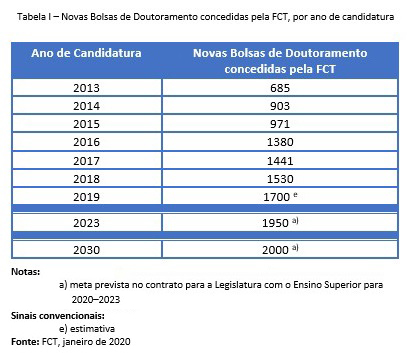 The value of the research Studentships directly funded by FCT was updated as of January 1, 2020, with reference to the update of the Minimum Monthly Guaranteed Wage, corresponding to a 6% increase over 2019.
The update of the value of Studentships is made in the context of the revision of the Research Grant Holder Statute and the FCT Research Regulation of Studentships . The updated value per type of Studentship is available here.
In 2020, the doctoral Studentships will be updated to a monthly value of €1064. Note that the values of Studentships had been updated in 2018 and 2019 based on the inflation rate (1.0%, and 1.4% respectively).
The update applies from 1 January 2020, and the FCT services are gradually updating the value of Studentship, which is expected to be completed by March 2020. The update of the value of Studentship will be processed retroactively with effect from January 1, 2020.
The total number of new doctoral Studentships granted by FCT increased from 900 Studentships in 2015 to about 1700 Studentships in 2019, corresponding to an increase of about 89%, and is expected to reach 1950 new Studentships by 2023.
In 2019, the total number of ongoing doctoral Studentships funded by FCT was 5556, and this figure is expected to increase to more than 7000 Studentships in 2020. This increase aims to strengthen doctoral training capacity in Portugal, stimulating R&D activity in the various research units, articulated with higher education institutions and in close articulation with institutions (public and/or private) that are dedicated to the production, dissemination and transmission of knowledge.
Published January 9, 2020