"Net with Awareness" videos raise awareness of internet safety
Topics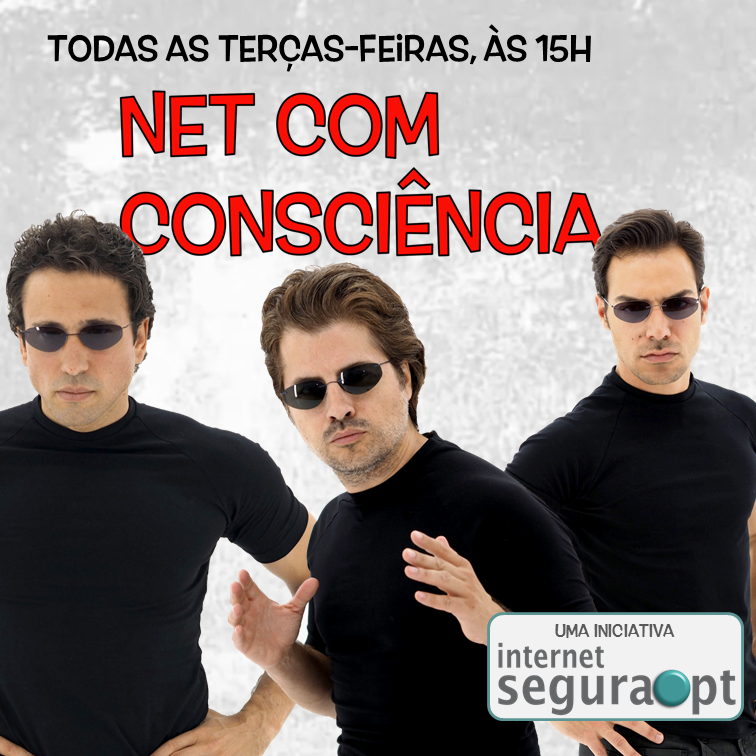 (available only in English)
The first episode, "Online Dependency," premiered on July 15, and the second episode was released today, July 22, at 3pm.
João and Joana are two young people who can't live without the Internet or Social Networks. Only they are not always aware of the content they share or the risks they are subject to when they are online, and so they are constantly in trouble. To become more responsible and attentive, they will be surprised by their own consciences.
In a clear allusion to the movies Matrix and Tron, actors Alexandre Silva, Pedro Górgia and Tiago Aldeia play the online conscience of these young people. In a humorous register, the characters identify risks associated with online addiction and behaviors such as cyberbullying, sexting, dating, gaming, online reputation and hate speech, among others. At the end of each video, the telephone contacts of the Linha Ajuda do Safe Internet CenterHelp Line, the project's main channel for clarification and support.
The production of the videos is one of the initiatives promoted by the Internet Segura (Safer Internet) Center to raise awareness about the responsible use of the Internet and technologies, targeting young people. This initiative is parallel to the theater play ID - your mark on the Net!Communicate Safely"program of the PT Foundation. The play counts on the participation of the same actors and is one of the activities developed during the school year in schools and theaters throughout the country.
To continue the communication strategy developed during the school year, the launch of the Net with Awareness series coincides with the school vacation months. At this time of year, young people are more vulnerable to the risks of online exposure, so we tried to act outside the school environment. "You go on vacation and they go with you" is the teaser message that preceded the release of the first video. Episode 01 came out on July 15, and the second episode will be available on July 26 on Youtube and on Facebook of Internet Segura. The webseries will also be adapted for formats accessible to blind and deaf people.
Also as part of thepromotion of safety and positive use of the Internet, February marksSafer Internet Day. This year, Portugal marked the international event on February 4th with the " Do your part for a better Internet" seminar in Lisbon. The meeting involved academics, psychologists, criminal investigation forces, youth associations, media, among other experts, in the discussion on the challenges that Internet use poses to people's behavior and, in particular, to young people.
O Safe Internet Center is part of the consortium coordinated by the FCT - Foundation for Science and Technology, in a partnership with the DGE - Directorate-General for Education of the Ministry of Education, the IPDJ - Portuguese Institute for Sports and Youth, Microsoft Portugal and the PT Foundation, which has been part of the consortium since the beginning of July.
Published on 26 July 2016