Workshops of the Thematic Agendas Research and Innovation
Topics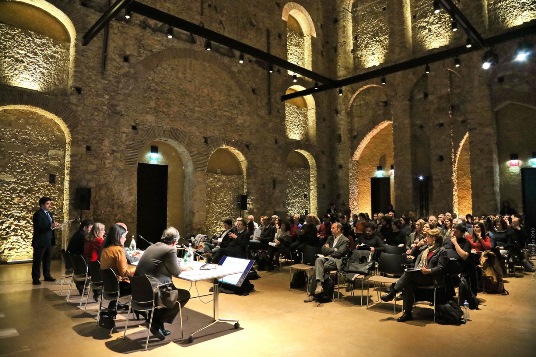 FCT has been promoting a set of workshops subordinated to the Thematic Agendas for Research and Innovation. 
These workshops aim to promote the dissemination of the work developed by the experts of the Agendas, in a dynamic and open process; to encourage the participation of the scientific and innovation community, public entities, associations and stakeholders with an interest in the agenda's theme; and to allow the discussion of the preliminary version of the Agenda, before the finalisation of the drafting process. In this sense, the workshops will not only be a moment to disseminate the work in progress, but also an opportunity to receive additional contributions that can consolidate the final version of the Agendas.
The Thematic Agendas development process, initiated in 2017, seeks to involve and mobilize experts from R&D institutions and companies in the construction of a vision for each of the thematic areas, in a medium and long term perspective until 2030. It is also intended that the Thematic Agendas will be sources of information that can serve as a basis for the decision-making processes of the different actors in the system, particularly with regard to the internationalization strategies of R&I.
Check the calendar, which will be updated as new workshop sessions are scheduled, and sign up. 
Thematic Agenda Workshop Calendar:
Sustainable Energy Systems
January 28, 2020 | 2:15 PM | LNEG - Lumiar Campus(registration | program)

Workshops held:
Portuguese Architecture
October 2, 2019 | 2:00 pm | Thalia Theater(registration | program)
Climate Change
March 26, 2019 | 2:00 pm | Thalia Theater(registration | program)
Labor, Robotization and Job Qualification
June 28, 2018 | 2:00 pm | Porto(registration | program)
Space and Earth Observation
May 29, 2018 | 2:30 pm | Pavilion of Knowledge(registration | program)
Health, Clinical and Translational Research
May 15, 2018 | 2:30 pm | Calouste Gulbenkian Foundation(registration | program)
Mar
May 14, 2018 | 14:30 | University of Aveiro(registration | program)
Social Inclusion and Citizenship
May 11, 2018 | 2:30pm | Thalia Theater(registration | program)
Tourism, Hospitality and Leisure Management
May 10, 2018 | 2:30 pm | IGOT(registration | program)
Agri-Food, Forests and Biodiversity
May 9, 2018 | 14:30 | INIAV- Oeiras(registration | program)
Industry and Manufacturing
May 2, 2018 | 10:15 am | Pavilion of Knowledge - Ciência Viva(registration | program)
Culture and Cultural Heritage
April 5, 2018 | 10:00 am | Thalia Theater(registration | program)
Circular Economy
April 23, 2018 | 2:15 pm | Thalia Theater(registration | program)
Published 17 January 2020