CCMAR monitoring detected bluefin tuna almost three meters long
Topics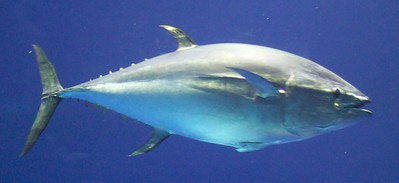 The monitoring network of researchers from the Center for Marine Sciences, University of Algarve (CCMAR-Algarve) has detected a bluefin tuna (Thunnus thynnus) with almost 3 meters in the area of Sesimbra, near the Serra da Arrábida, called marine reserve Luiz Saldanha. This is an unusual size for this species in Portuguese waters.
This monitoring network records the passage of tagged animals along the Portuguese coast, from Sesimbra to Vila Real de Santo António. The data is recorded when the animal passes within range of the underwater receivers, but can only be accessed when the devices are physically collected, which happens twice a year. This particular tuna was tagged by a team of researchers from Stanford University (USA) in September 2018 in the Gulf of St. Lawrence, eastern Canada, and frequented the waters of the Luiz Saldanha marine reserve in early August last year, where it roamed for almost a week.
This species lives in the Atlantic Ocean, the Mediterranean and the Black Sea, moving in shoals and making large migrations for feeding and reproduction, and this record of its passage through Sesimbra, along with the records of other monitoring networks of this type, important for the study and monitoring of these migrations.
The records made by the monitoring networks for various species contribute to the global knowledge of the seas and the sharing of information between experts from various institutions worldwide.
CCMAR-Algarve, which is included in the most recent FCT Atlas of R&D Units, focuses its research on the study of marine ecosystems and the impact that climate change has on them, as well as on finding ways to manage and use marine resources in a sustainable way.
Published 14 March 2022 | Updated 12 January 2023